About Us
Indian Association of Conservative Dentistry and Endodontics provides Life membership to all those who hold Post Graduate qualification in the speciality of Conservative Dentistry & Endodontics and Associate membership to other specialities, recognised by the Dental Council of India.
President's Messsage to the Members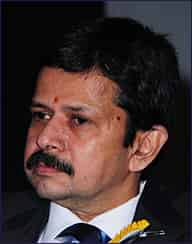 "Thottanai thoorum manar keni mandarukku kattranai thoorum arivu" says Thiruvalluar in his epical Thirukural which means
The more deeper you dig the soil, the more water you will get
Similarly the more you read, the more knowledgeable you will become.
It gives me immense pleasure to assume office as the president of our prestigious association, "Indian association of conservative dentistry and endodontics". At the outset i would like to thank one and all for selecting me for this illustrious post. I am indeed humbled by your beloved gesture in bestowing this honor on me. I also extend my special thanks to my teachers, past presidents, secretary and other office bearers of this association. I assure that i will leave no stone unturned in carrying forward the legacy of our association.
In this ever changing world, the art and science of conservative dentistry and endodontics has developed in leaps and bounds. We are in an era of ever changing phenomena and we are ready to embrace the newer and healthier developments in our field, as in other fields of medical sciences. In this process i am sure that all the members of our association will have no second thought in accepting to the fact that the way of science today is research, be it basic or applied. Good research not only brings out the unknown truth from the ocean of science but also brings out the hidden truth from our everyday activities. It is with this broad idea that our association has started to fund research projects in our field, to encourage the young budding scientist amongst us. I request all our members to make use of this unique opportunity and contribute their might for the developing science.
Undoubtedly India is a well developing country. However we do have miles to go in achieving the standards of healthcare as our western counterparts. We, as conservative dentists and endodontists share a responsibility – responsibility to tackle the emerging trend of dental caries and related dental disorders, responsibility to help restore and retain the smiles of our fellow countrymen and above all, hold the pride of our profession and thereby serve the humanity, upholding the ethical principles shown by predecessors and by keeping updated with the newer knowledge to face the changing challenges of today.
- Jai Hind,
- Dr.M.R. Srinivasan